Careers at Accelerated
Come work with a group of dedicated professionals and Accelerate your career!
Accelerated is a cutting edge Engineering, Design/Build, and Manufacturing company that is highly regarded by our clients for providing high value solutions and services. We work in a variety of industries including life sciences, energy, aerospace, medical and many more.
We are a growing, fast paced company looking for engineering and manufacturing professionals. At Accelerated you'll enjoy a positive team environment that is both challenging and rewarding with opportunities to grow and enhance your professional knowledge.
We offer competitive compensation, a first class benefits package including matching 401K and region leading paid time off and holiday plan.
Earning a position at Accelerated is very competitive, so it's important you make a great first impression. For consideration please submit your resume or CV, along with project portfolio and description of your talents for any of the open positions you see listed here. We look forward to meeting with you.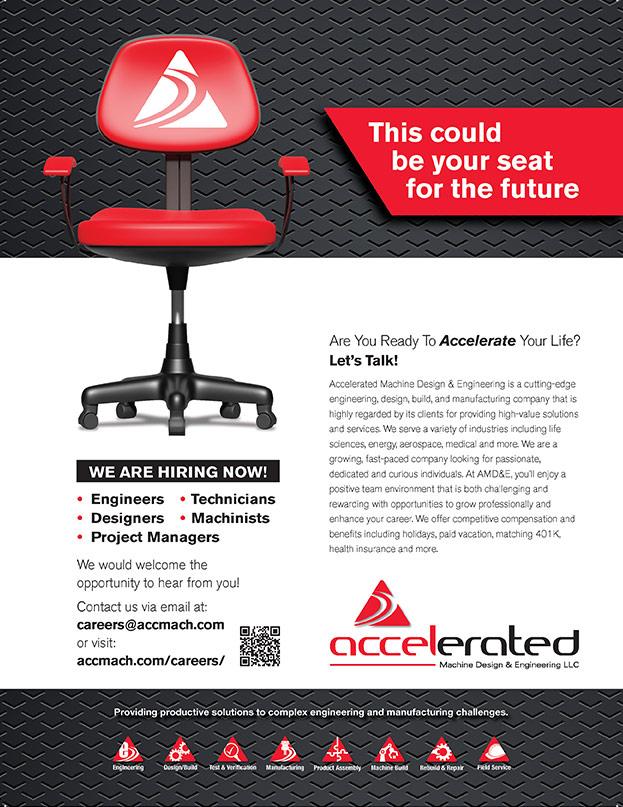 Current Openings
---
Please fill out the form below and attach your resume for consideration. We are most interested in learning your background of successes and understand your drive to succeed.
Your submission has been sent.