Your Partner for Modern Fixture & Tooling Technology
Metal machining work is all about precision. AMD&E's customers in the manufacturing sector frequently confront challenges that can compromise accuracy and repeatability. Some challenges trace directly to poor process planning, incorrect tooling, and fixtures that are more afterthought than solution. When processing techniques suffer, so can productivity.
To help increase your company's productivity through innovation and superior design, AMD&E has developed hundreds of unique fixtures that improve production and tooling processes. AMD&E's team of highly skilled problem solvers provides the best fixture and tooling solutions in the industry. Our extensive engineering experience and partnership with the region's premier suppliers help us choose the best options. You are assured the highest quality assemblies to meet or exceed your specifications, delivered on time, within budget, and ready to use.
AMD&E assists you with the design of new fixtures and tooling, as well as the development and refinement of existing ones. It rarely takes more than a short discussion to diagnose the problem and formulate a plan of corrective action. Then we devise a productive solution and leverage our engineering and computerized analysis tools to predict performance. Once the design is optimized digitally, we work with our supply chain to build a world-class fixture or tooling solution. We ensure that our solution is capable of supporting our customers' accuracy, surface finish, and usability requirements.
Recognized as experts in fixtures and tooling design, AMD&E's engineering personnel add value to your manufacturing operation by:
Preparing engineering drawings from "napkin sketch" concepts
Creating completely new designs based on functional requirements/applications
Recommending process/equipment improvements, including custom designs
Predicting effects from temperature, pressure, force, etc., utilizing computerized analysis tools
Improving existing designs for cost, functionality, usability
When it comes to quality and reliability, here is what you can expect from partnering with AMD&E:
Fixtures and tooling that consistently meet/exceed dimensions/requirements
Consistent, on-time delivery
Quick response fixtures, enabled by flexible suppliers and efficient internal processes
Inspection and certification are possible — parts are ready to use at delivery
As a single point of contact for procurement, AMD&E offers:
Frequent, clear status updates on all fixtures in process
Reduced time quoting, whether the project involves small or large fixtures
Less paperwork in the form of multiple vendor qualifications, purchase orders, invoicing, etc.
There is also much more to AMD&E's single-source advantage:
Good working relationships with 150+ machine shops and 20 of the best foundries in the U.S. within 100-mile radius
Ability to multi-route based upon part requirements: machining, turning, blanking, Blanchard grind, surface grind, jig bore grind, id/od grind, centerless grind, creep feed grind, honing, shaping, skiving, gashing, hobbing, broaching, knurling, wire cutting, sinking, gun drilling, etc.
Access to 20 leading ISO-certified fabrication shops and weld shops in the Midwest
5 of the Midwest's best drop forge facilities located within 100-mile radius
Grind fixture
Precision grind fixture to locate and clamp workpieces for final grinding. The part, used in the energy market, has tight position tolerances and quick-change requirements. Previously, manual setup and clamping of fixtures onto 1-2-3 blocks could cause differences in clamping and part distortions. The new fixture resulted in quicker setup, better repeatability, and fewer rejected parts. Special materials and coatings that withstand corrosive lubricants were included in the design.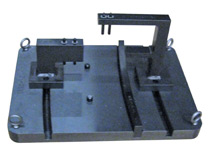 Inspection fixture
Fixture to inspect a radial feature on a component for the aerospace market. To inspect the feature, the part originally was placed on a large CMM that had a high burden rate (machine, operator, setup, etc.). AMD&E automated the process with a radial sliding go/no go gauge to inspect the radial feature off the CMM. This solution reduced the cost and setup time, and enabled more inspections per hour.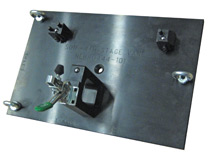 CMM fixture
Dedicated fixture for holding odd-shaped parts on a coordinate measuring machine (CMM) dramatically reduced inspection time from 4-6 hours per part to 15-30 minutes. Manual setup involved clamping the part (for energy and aerospace applications) in a vice, clamping the vice to the CMM table, and aligning the CMM program to the part. The AMD&E-supplied fixture's qualified alignment edges for aligning the coordinate system and 3 point, 3 point, 1 point locating system to restrain all 6 degrees of freedom provided a repeatable, passive, and durable cradle for part holding. After the fixture, batches of 32 parts could be inspected in less than two days, compared with a full workweek under the manual arrangement. It also increased the number of features inspected and improved part quality.
Fixture Gallery