Custom-Engineered Drill-Tap Machine Keeps Production Moving Along
COMPANIES OFTEN CHANGE OR UPDATE the designs of components in the equipment they produce. Usually, their suppliers can adapt by incorporating standard machinery into their existing production lines.
When a customer of TC Industries, Inc. revised the design of wear plates for motor graders, it required a change in the manufacturing process that could not be met with "off the shelf" machinery.
To keep production moving, the Crystal Lake, Ill.-based steel processor turned to Accelerated Machine Design & Engineering to design and build a custom machine for their production line, to drill and tap holes in steel bars at the same pace as the existing equipment.


TC Industries was confronted with two possible choices: Buy a standard machine and try to reconfigure it to new specifications or enlist an outside firm to design a custom machining solution that would precisely fit the existing workflow.
"The drill-tap machine TC Industries needed was unique in that it had to fit within the existing production line," said Bill Hudachek, main project engineer at TC Industries. "It required only one size tapped hole. There were always two holes in each piece. Our initial research found that nothing commercially available fit the bill. Accelerated had the background in CNC and machining required to accomplish the job. They were able to use our preferred components and our existing tooling, which saved us a lot of money."
FOUNDED IN 1881, TC Industries specializes in heat treatment, annealing, and normalizing of carbon and alloy steel bars, plates, and rounds. The company also makes cutting edges, wear parts, and ground-engaging tools for off-highway original equipment manufacturers.
Prior to implementing the automated drill-tap solution designed by Accelerated, material handlers at TC Industries manually loaded 1,500lb bars into a CNC milling machine. Then, the drilled parts were transferred to another location for further processing.
One of the main goals for the new machine was to fit seamlessly into the existing line, so that no operator involvement would be required. Accelerated brought its full design, engineering, and manufacturing skills to bear in order to satisfy TC Industries' requirements.
"We were able to leverage our one-off design/build capability, our expertise in mechanical and electrical engineering, and our experience in metal cutting and systems integration," the Accelerated engineering team said. "Our turnaround time from acceptance of our quote to delivery of the finished, running machine was 16 weeks — well within the customer's tight deadline."


ACCELERATED WORKED CLOSELY WITH A GROUP consisting of TC Industries; Tek-Matic Inc., a value-added distributor of automation and motion control products based in Rockford, Ill.; and Parker Hannifin Corp., the world's leader in motion and control technologies. In addition, more than a dozen local machine shops fabricated parts to Accelerated's exacting specifications. Assembly, programming, and testing all took place at the Accelerated plant in Rockford, Ill.
Tek-Matic, in its capacity as a distributor to both TC Industries and Accelerated, was instrumental in putting these two companies in touch with each other. Mike Muldowney, a Tek-Matic sales engineer, planted the seed for what became the design/build solution. He referred Accelerated to TC Industries' Bill Hudachek and afterward acted in a liaison function. Muldowney's familiarity with TC Industries' technology preferences enabled Accelerated to pass along the benefits of economies of scale by utilizing regularly stocked products and common parts in the machine design.
THE DRILL-TAP MACHINE measures 172in L x 78in W x 105in H. As the second station in a five-station line spanning 250 feet, it drills, countersinks, and taps two ¾-inch lifting holes in the work piece per cycle. Machine cycles average 2.5 minutes, including conveyance and positioning. The machine is programmed for fully automatic sequencing. Drilling, countersinking, and tapping feeds, speeds, depths, and dwell times are individually programmable by the operator from the highly intuitive graphical interface.
The machine cycle is programmed for fully automatic sequencing from drilling feed and speed to countersinking feed, speed, and dwell time, then tapping cycles.
A servo-driven conveyor transports steel bars of varying sizes that have been flame-cut to length in the first station into the unattended drill-tap machine. The largest work piece measures 8ft L x 19in W x 3in H and weighs 1,550lbs. The conveyor can move the bars at a maximum speed of 550 in/min and can position them within ±0.020in.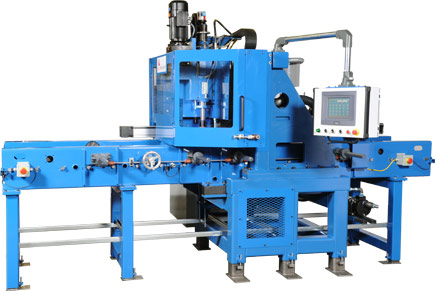 TC Industries turned to Accelerated Machine Design & Engineering to create a drill-tap solution that would fit seamlessly into its existing multi-machine manufacturing workflow.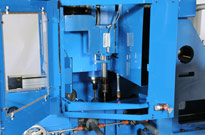 The shuttling dual-spindle carriage alternates between the drill spindle and tap spindle with speed and precision.
The machine features a shuttling dual-spindle carriage to quickly and precisely alternate between the drill spindle and tap spindle. Two servo drives control the part position; another servo drive controls the drilling feed rate. A tool monitoring and broken tool detection system is included as well.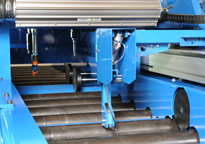 The specially designed pneumatic clamping system secures the work piece after the laser sensor verifies that positioning is correct.
An automated pneumatic clamping system secures the work piece after the laser sensor verifies that positioning is correct. Data input from the customer's drawing determines when to clamp and when to commence the drill cycle.
An operator can update drill geometry from an HMI touchscreen, and cycle parameters update automatically, without additional programming. A toggle switch allows changes on the fly from pecking to continuous operation.
ACCELERATED ALSO ENGINEERED a robust coolant filtration and chip processing system for the machine. High-pressure coolant shoots through the spindle to clear chips during the drilling cycle, and a flood line provides coolant while the tap is engaged. Chips are flushed out through the fully welded conveyor frame and are carried into a containment pan. Coolant is filtered as part of a "piggyback" recirculating system that takes advantage of excess capacity in TC Industries' coolant filtration and pumping system.
One of TC Industries' key requirements involved using Parker systems and components throughout the machine.
"Parker boasts numerous industrial divisions," the Accelerated engineering team noted. "TC Industries has standardized their machines around Parker's broad range of products. This project combined products from virtually the entire Parker line, including controls, servo drives, and electromechanical, hydraulic, and pneumatic systems. It minimizes the number of spare parts TC Industries needs to keep in stock and lowers replacement costs over the life of the machine."
DURING THE STARTUP PHASE, Accelerated's engineers spent approximately four weeks coordinating with TC Industries staff to fully integrate the new machine into the production line.
"Anytime you integrate new equipment into an existing manufacturing line, its performance has to equal or exceed that of existing machinery," the Accelerated engineering team said. "The drill-tap machine is designed to produce an infinite variety of parts. We had a window to design in, and we had to accommodate any variation within that window. The machine's superior cycle time more than keeps pace with the rest of the line."
TC Industries recently took delivery of a second drill-tap machine from Accelerated. It incorporates a number of productivity-enhancing refinements, such as software upgrades that can be rolled out to the first machine.
"We recorded our observations of the first machine in action on the factory floor and went back to the drawing board," the Accelerated engineering team said. "The result was an improvement in throughput by 50 percent. If TC Industries needs to meet higher product demand, this machine design will help them achieve the necessary throughput."